EMA-400
Desk Top Mask Aligner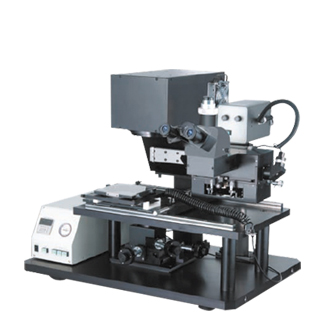 FEATURE
*Economical, Compact & Hi-Level Performance
* Viewing fused image of two alignment marks in the field of view.
* Integrator lens for exposure.
* LED illuminator
APPLICATION
(Micromachine development in R&D center and university)
*Acuator, Pressure Sensor, Acceleration Sensor, Power Device, etc.
* Exposure for Flip Chip/BGA/CSP.
* Exposure for Optical/High Speed Communication Components.
Alignment Scope
Objectives separation
15 to 75mm
Total magnification
100X
Illuminator for observation
Green LED (λ=540nm)
X, Y Movement range of stage
±5 mm
θ Adjustment
±5°
Utility
Power source for main body
and mercury lamp
AC 100V 50/60Hz 15A
Vacuum source
Below 21.3 Kpa (-80 Kpa from atmospheric pressure)
Pressure Source
More than 0.2MPa (N² gas or Dry clean air)
Exposure Unit
Lens
Integrator lens
Mercury lamp
250W ultra-high pressure vapor mercury lamp
Effective exposure area
Max φ100 mm
Intensity distribution
±5% or less
Intensity of illumination
20 mW/cm² (405 nm)
Exposure time control
Digital timer and rotary solenoid
Mercury Lamp Lighting Unit
AC 100V

Download PDF leaflet
EMA-400